This summer, you'll see more than eagles and birdies at three Great Lakes Bay Area golf courses.
Monarch butterflies – whose global population is just 20% of what it was two decades ago – are receiving help from local environmental organizations through a program called Monarchs in the Rough and Sandy Ridge, Currie and Bucks Run golf courses.
It all starts with milkweed.
Indeed, milkweed leaves are the only plant where butterflies lay their eggs and the only food source for monarch caterpillars. But as milkweed has disappeared in recent years, monarch populations have plummeted.
Monarchs in the Rough, a program of Audubon International, is a national initiative to save the species by encouraging North American golf courses to help reverse habitat loss by planting milkweed and wildflowers. The program has hundreds of course participants in locations along monarch migration routes.
The program is flourishing in Michigan.
"Traditionally, golf courses have not always provided excellent opportunities for conservation work," said Mike Kelly, director of The Conservation FundGreat Lakes Office. "But with this Monarchs in the Rough project, we are asking golf courses to use their large land area for habitat purposes.
"It turns out to be a win-win for golf courses and butterflies."
Dow Great Lakes Bay Invitational Funds Milkweed Project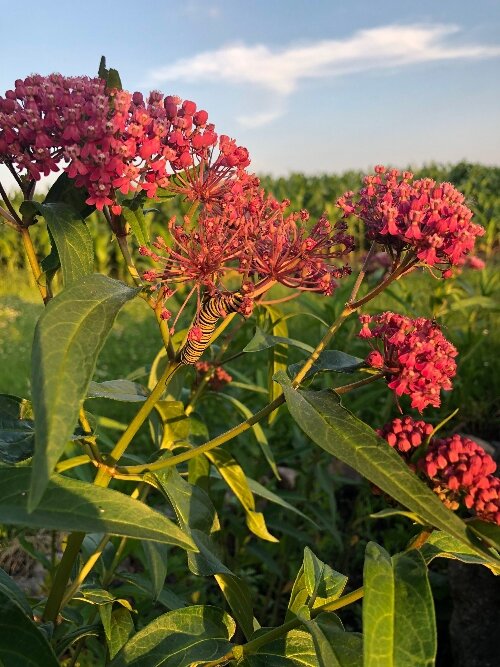 Monarchs in the Rough encourages golf courses to help save monarch butterflies by using some of their large tracts of land to plant milkweed and wildflowers. The species is threatened with extinction. Since its inaugural golf tournament in 2019, the Dow Great Lakes Bay Invitational has remained committed to donating to Great Lakes Bay Area charities and has awarded more than $1 million to charitable organizations. local nonprofits.
the Saginaw Bay Watershed Initiative Network in Bay City, with the Little Forks Conservatory in Midland and Chippewa Watershed Conservatory in Mount Pleasant, earmarked a portion of the 2021 GLBI grant dollars to start Monarchs in the Rough programs in the area.
"We couldn't be more grateful to the Dow GLBI for providing this opportunity to us and other nonprofits in the region," Kelly said. "Dow is a great partner in helping people do good things across the region."
The Saginaw Bay Watershed Initiative network is one of the Conservation Fund's oldest watershed restoration and sustainability programs.
Kelly said he's also grateful to local golf courses like Sandy Ridge Golf Course who have stepped up to help monarch butterflies and other crucial pollinators.
"Michigan is among the top five states in the country for golf courses, so their participation in this project is critical," Kelly said.
The new owners of Sandy Ridge are happy to help
When the Grocholski family purchased Sandy Ridge, 2750 Lauria Road in Midland, in 2021, they had already planned to add more color to the course with new landscaping. This made adding milkweed and wildflowers even easier.
"When Mike Kelly presented this idea to us, we realized that adding these factories would naturally do what we already intended to do," said Josh Grocholski, COO and owner of Sandy Ridge.
In addition to milkweed needed for egg laying and larval development, adult butterflies require nectar resources from other plants during reproduction and migration. Both should be included in any monarch habitat.
Experts recommend planting locally sourced native species that are well adapted to your area and more likely to thrive in the conditions in your area. Kelly recommends common milkweed for the Great Lakes Bay area.
WIN gave Sandy Ridge enough Michigan native seed to plant a total of 1 acre of milkweed and 2 acres of wildflowers. As they are perennials, the plants will come back year after year.
"We are happy to help," Grocholski said. "It has the benefit of making our course prettier and helping wildlife at the same time."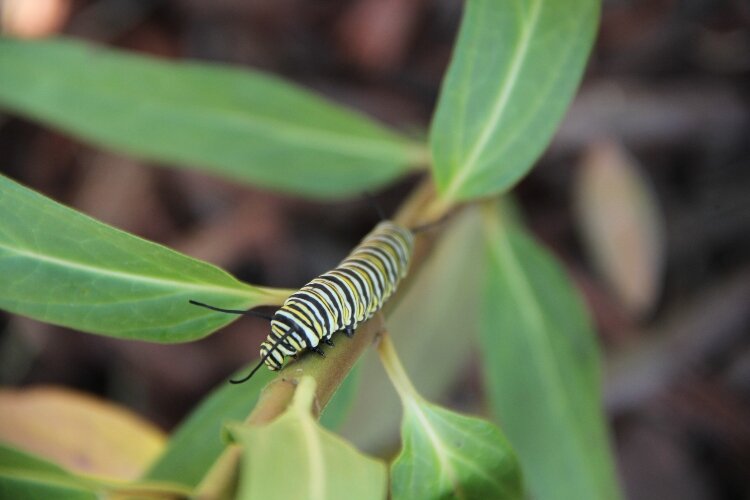 Monarch larvae, or caterpillars, feed exclusively on milkweed leaves. Without milkweed, the larva could not develop into a butterfly. Monarch Butterfly FAQ
With its orange wings, the monarch is one of the most recognizable butterflies on the planet. But did you know that this beautiful insect that weighs less than a penny travels a migration path of 3,000 miles – a journey that takes several generations?
Each fall, millions of North American monarchs fly south to overwinter at roosting sites in central Mexico or along the Pacific coast. Monarchs are the only butterflies to perform such a long migration in both directions. Eastern Monarchs – found in Michigan – will fly about 25-30 miles per day and winter in central Mexico.
Here is some additional information about the monarchs of the Monarch Joint Venturebringing together the partners from all over the United States to keep monarchs migrating:
Do monarchs return to the same areas when traveling north?
During the eastern population's summer breeding season, three generations pass before the migrating generation (the fourth generation) leaves for Mexico. Successful migratory monarchs will live six to nine months and breed and die in the southern United States in the spring. Their offspring then continue their migration north. Therefore, individual monarchs do not return to their original starting point.
How Do Monarchs Find Milkweed?
Monarch butterflies find milkweed using their sense of sight and smell. They have sensory receptors in their antennae and front legs. The females will "taste" the milkweed with their feet before laying their eggs on it. Breeding female monarchs continually move across the landscape in search of milkweed on which to lay their eggs.
Can milkweed plants growing in backyards make a difference?
Yes! Everyone's habitat makes a difference, especially when there are several together who begin to build a network of connected habitats. Planting milkweed in your garden or yard creates much-needed habitat for the monarchs in your area and allows them to live and breed to create the next generation of monarchs.
Local golf courses interested in Monarchs in the Rough can contact Mike Kelly at [email protected]